Our Minister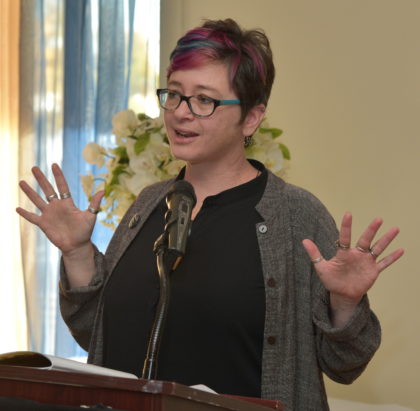 Hello! Welcome to a brief version of my story. Thanks for stopping by.
I am Reverend Karen G. Johnston, called to serve The Unitarian Society (we call it "TUS" like the word, not the letters) in August, 2016. My heart sings, my mind sparks, and my soul feels at home in the creative tension between our First (individual worth & dignity) and Seventh (interdependent web of all existence) Unitarian Universalist Principles, plus all the five that fall in-between. Our strength comes not from our shared theological beliefs, but from the diversity of theological or spiritual perspectives and how we create covenantal community together with a focus on embodied, lived values.
Like many UUs, I was not born into this faith movement. I was raised without any formal religion and feel myself to be profoundly blessed to have found my way to this community, in which I raised my two children. I have two young adult daughters, whom I first met as foster children when they were 2 and nearly 4 and adopted when they were 5 and 7. In 2011, I married Tony and gained two wonderful adult step-children. I joyfully affirm the many ways we humans create loving family constellations, and am proud that TUS is a welcoming congregation with many beloved and active members and friends from within the GLBTQIA+ community.
I grew up mostly in Oregon. Post-college, I have lived both in the Boston area and the Washington, DC area, settling in the Pioneer Valley of Western Massachusetts in the mid-1990s and now in Central New Jersey. Formal preparation for the Unitarian Universalist ministry included gaining my Master of Divinity degree, which was a Cooperative Program between Hartford Seminary and Andover Newton Theological School. For my undergraduate degree, I attended Hamilton College, where I majored in Women's Studies and was involved in campus anti-Apartheid, anti-racism and feminist activism. I also hold a Masters in Social Work from Smith College School for Social Work and spent twenty years working in the field of early intervention, home visiting, and child abuse prevention.
At the center of my spiritual practices is a meditation practice following the Insight tradition (Vipassana) of Western Buddhism. Also part of my spiritual life is Beloved Community, a term that resonates for Unitarian Universalists as we engage in spiritually-based justice seeking and making. We commit to bring our whole selves – body, spirit, and mind — to creating a more just and equitable world, forming concentric circles that begin within and move outward.
I am thrilled to be a part of The Unitarian Society and our shared work to care for and transform this world. I hope you will join us and if you are new, introduce yourself: I look forward to meeting you!