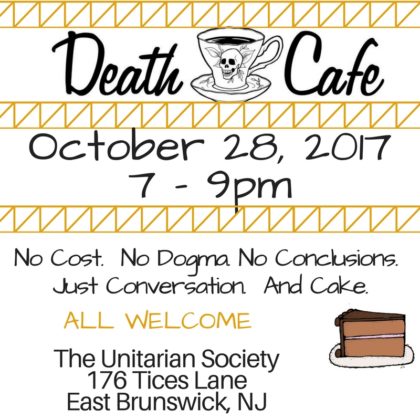 Death Cafe
Spend your Saturday evening with coffee, cake & conversation in small groups exploring our inevitable mortality and the topic of death. (Gluten-free option will be available)  Rev. Karen will be your host.
No dogma. No answers. No conclusions.  But space for questions, queries, and speculation.  The Unitarian Society is pleased to sponsor this event.  It is open it to all regardless of religious affiliation or non-affiliation.  To help us have enough cake, please register here.  https://www.eventbrite.com/e/middlesex-county-death-cafe-tickets-37972555937
We cannot provide support for people dealing with recent loss or terminal illness but referrals can be provided.
We are explicitly welcoming of all people regardless of gender identity or sexual orientation.