It is nearly February and I am thinking about love. Not the Hallmark card kind and not the box of mediocre chocolates kind and not the heteronormative dinner and date kind. I have been thinking about love and sexual orientation and gender identity, about power and trust and consent and intimacy. I guess I have been thinking about this whole beautiful messy aspect of the human experience. According to the ancient Greeks, love takes six forms: Eros. Agape. Philia. Ludus. Pragma. Philautia. Each of them different, yet of the same woven fabric. One of my favorite quotes about love is from Dr. Cornel West: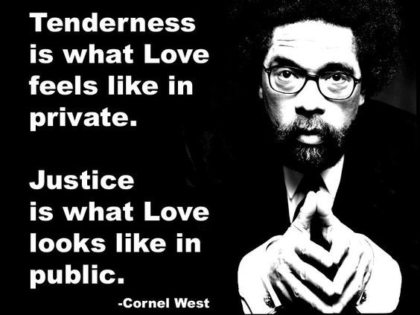 What about philautia – love of self ? How does it interact with justice? Something tells me it has to do with fully accepting and celebrating ourselves and others, especially those in our human family who are told through cultural norms and human-made laws that they are not equal, not whole. I am thinking here of those who expand our notions beyond the gender binary, beyond just male and female, into a continuum of gender identity. I am thinking here of those born into a body with a sex assignment that does not match the gender they know themselves to be. I am thinking here of people who love someone – erotically, or pragmaly – of the same (same gender, same sex). I am thinking here how our images of sexuality are constricted by our own understandings and misunderstandings of how disability plays into the human need for and ability to love.
I recently saw one of 2016's most lauded films, "Moonlight." It is a film about a Black man, from child to teenager to young adult, and his relationship to his sexuality — both eros and philautia. What a subtle, true, complex story so skillfully and evocatively told. It is so many stories rolled into one; I plan to watch it again to see what I missed the first time. I encourage you to see it and to allow the beauty, as well as the tragedy, to move you. I will refrain from spoiling the movie, but it made me cry for the way life stunts our fullest humanity, our fullest ability to love, and still was able to show me enduring beauty and gentleness.
I am blessed to be on this journey with you,
Rev. Karen