Religious Education Programs 2018-2019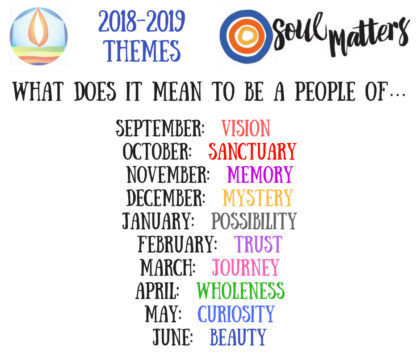 We are a vibrant Religious Education program in a small and mighty congregation.  Each year, our volunteer teachers and Religious Education Committee work together with our Director of Religious Education, in consultation with our minister, to ensure that we provide engaging, structured experiences for all the children who participate.
All children (except the littlest who are welcome, but also can go to our Nursery) and youth begin Sunday mornings in the sanctuary with their family, then are sung out by the congregation as they go to their Religious Education groups. This year, our whole congregation, along with our RE program, will be following the Soul Matters themes, providing developmentally-tailored activities that spark the mind, grow the heart, and broaden connections.
We hope you will find one of these offerings inspirational to your children and youth and walk this journey with us. We "welcome all into our house".