Resilience and resistance. Notions that visit during both waking and sleeping hours.
Here we are, bearing witness that America has always been an evolving mélange of humanity and cultures, with aspirations of fairness and justice, always stuck in the mess of not-yet-there.
This new chapter in the American story offers, for people of conscience and faith, is a visceral reminder that American democracy is an ongoing experiment – full of promise, but without guarantee. And one that requires more than love. One that requires fierce love.
Resilience and resistance. These are the notions we aspire to embody in our Unitarian Universalist congregation.
How do we care for one another, both tending to those whom we know as our own? And expanding outward our sense of who is kin?
How can we respond with fierce love that crosses borders, smashes divides, and is infused with the deep knowing that the work of justice, of compassion, of equity, is ours to do, ours to do here, ours to do now?
Along the street where our building sits, we have placed this message, on rainbow colors, shouting:
"Love Your Neighbor:
your Black, Brown,
immigrant, disabled,
religiously different,
LGBTQ+,
fully human
neighbor.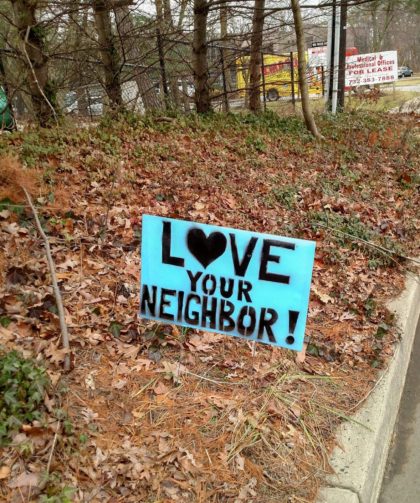 This. This is what we aspire to. This is what we are called to make true as possible. This is Beloved Community. This is the world we dream about. This is fierce love.
They say the heart is a muscle. All muscles need to be worked, else they atrophy. Now is the time for resilience. Now is the time for resistance. Let us love fiercely.