Home
Join us on Sundays at 10:30 in person or virtually!
Parenting As Activism: The Role of the Village
Description: When done with intention and care, parenting can be a revolutionary act, changing the fabric of future society.  Yet, given the demands of modern life, it's difficult for parents to bring intentionality even to the mundane parts of
... read more.
Welcome to The Unitarian Society!  We are so glad you found us!
We welcome you to our Sunday services, whether you attend in-person or online, at 10:30am.
Sign up for our weekly eblast that informs you of other thoughtful activities, such as the anti-racism book group or the First Friday Salon – both of which take place online. Or learn about our other, ever-changing in-person events.
We look forward to meeting you, getting to know you, and welcoming your energies and ideas to our scrappy congregation.
---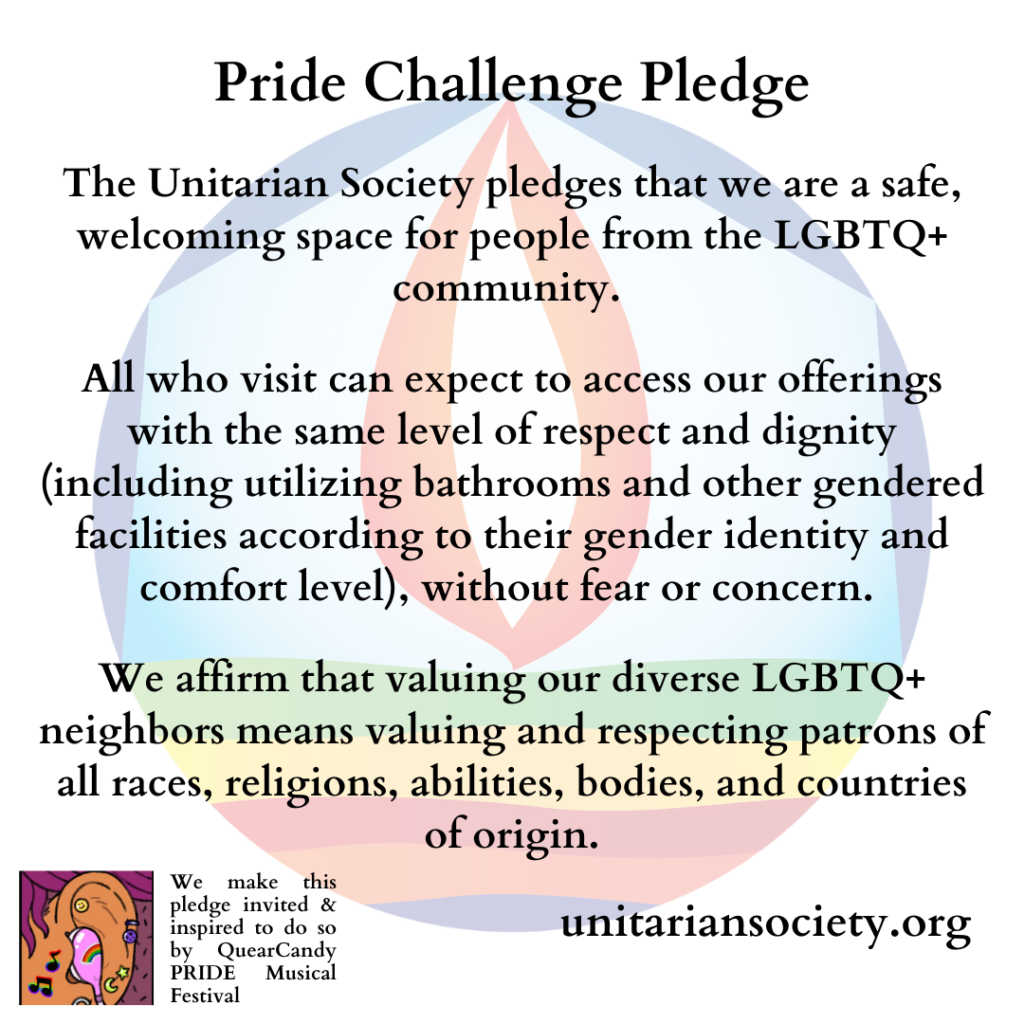 ---
Who are we? We are an eclectic group of individuals coming together in community since 1955, committed to growing ourselves, each other, and sharing our gifts for the healing of the world.  Some of us knew we were Unitarian Universalists before we stepped foot here.  Others discovered it over spending time as part of the congregation.  Some are still figuring it out.
We gather not because we share the same beliefs about the nature of god and the universe (we don't), but because we believe that each of us is a gift and all of us together have a necessary role in making the world a better place.
We are a people across the age span – young, old, and in between — with an engaged and engaging religious education program on Sunday mornings, as well as Affinity groups to fit a variety of interests and cultivate connection.
We are proud to be a congregation that affirms people of all races/ethnicities, sexual orientations, and gender identities.  We are officially a Welcoming Congregation, knowing that our world and community is made richer by the presence of gay, lesbian, bi, straight, transgender, and genderqueer folks.
We are people who have doubt, express skepticism, embody faith, and welcome questions as much as answers – sometimes all at the same time.
We are called into community to believe what we must, to follow our path and support others on theirs, and to continually seek a purpose greater than any single person.
Our is a liberal religious tradition: we believe that truths are continually unfolding and are to be found in many sources, ancient and ever-new.
We understand that each of us individually, and all of us together, are part of an interdependent web of existence – that we can influence that web, but are also influenced and formed by it.
What joins us together is our engaged respect for each other, our commitment to the principles of Unitarian Universalism, and the ongoing promises we make to create a community together.
Who are you?
Someone seeking spiritual, intellectual, emotional connection.
Someone who wants to go deeper with your sense of engagement in the world, living your values and your faith out loud.
Someone who wants to engage in the creative dance between honoring our individual expression and our responsibility to community.
Come check us out.  As the colorful sign in our lobby says, "Welcome All Into Our House."