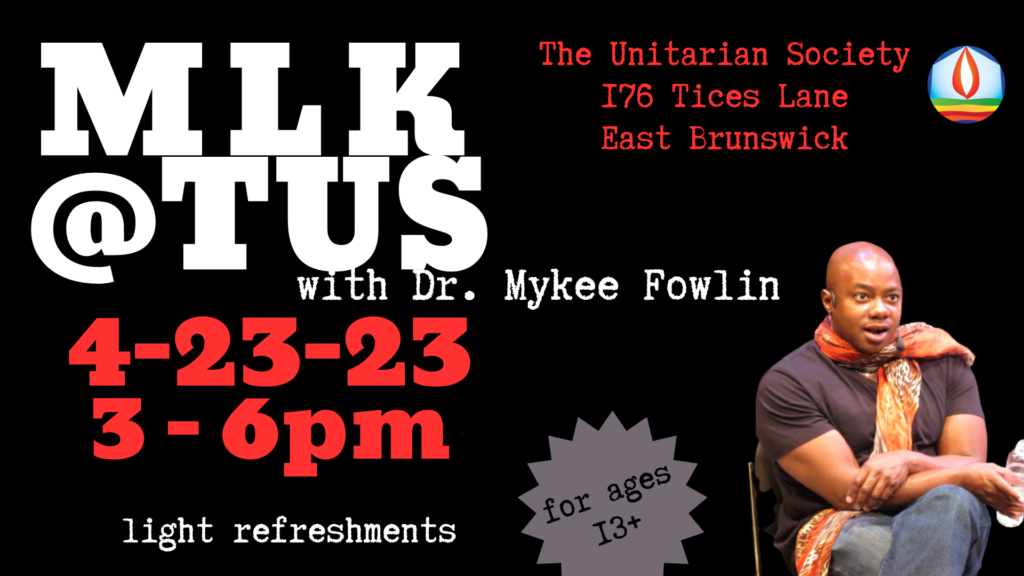 MLK@TUS
"You Don't Know Me Until You Know Me"
with Dr. Mykee Fowlin
April 23, 2023
3pm to 6pm
The Unitarian Society is hosting a presentation challenging us to unveil our authentic selves. An experiential, one-person theatrical event, "MLK@TUS: You Don't Know Me Until You Know Me," will be a moving performance by Dr. Mykee Fowlin, whose mission is to create an atmosphere of worldwide inclusion, beyond tolerance, toward all people.

MLK@TUS, on Sunday, April 23 at 3 p.m., is open to all at no cost, though donations are welcome to help defray the cost of the event. It is best suited to ages 13+. After an introduction, the 75-minute performance will flow into a discussion with the audience. Light refreshments with vegetarian options will be served at 5 p.m. Due to limited capacity, please register using the link above.

An annual event sponsored by The Unitarian Society, MLK@TUS promotes anti-racist education and action within the wider community. TUS scheduled this event in remembrance of Dr. Martin Luther King's assassination in April 1968.
Dr. Fowlin recognizes that hiding our pain can be to our detriment, and that exposing it can instead be a gift that effects change in our society. Using his performance art, humor, poetry, storytelling, psychology, monologues, and his personal journey, Dr. Fowlin quells the fear of being rejected or judged and encourages us to celebrate our differences. "We are capable of transforming the world, for the good, but this work starts from within; it is the process of turning our hurt into self-reflection, healing, and then action," he says. In addition to his theatrical talents, Dr. Fowlin has an undergraduate degree in psychology from Evangel University in Springfield, Missouri, and obtained a doctoral degree in clinical psychology from the Graduate School of Applied & Professional Psychology (GSAPP) at Rutgers University.
---
Below are images from the 2020 event at which the Meta Theatre Company performed an interactive theatrical piece on the myth of a biological basis for race.  Afterwards, we all created nearly 100 bag lunches in partnership with Elijah's Promise for their guests who are unhoused or experience food insecurity.